---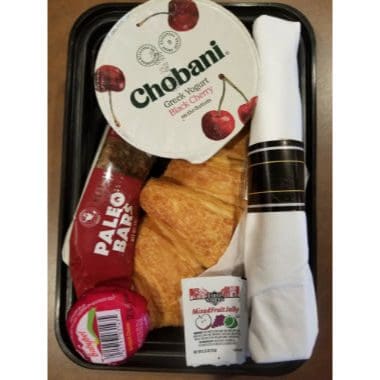 Victorian Inn Morning Morsels
With your stay at the Victorian Inn daily morning morsels are provided, packaged as a Grab & Go offering to help you get started on whatever you have planned for the day.
---
Creatively prepared Fresh Fish, Portuguese Paella, Baby Back Ribs and much, much more, along with irresistible house-made desserts. You may choose to dine in the Tavern or our Main Dining Room, and enjoy something for everyone in the family.
Complement your meal with a special vintage selected from our wine list, which in includes our own private label VI Restaurant wines, or enjoy an after-dinner liqueur from our full service bar. From fine dining to serious comfort food, the VI Restaurant's extensive menu will satisfy your every culinary mood.
---
For VI Restaurant Reservations
Please Call 707-786-4950 or email dine@victorianvillageinn.com
Join us at the VI. We are open from 4:00 until 8:00 for Dinner. The Restaurant is closed on Thursdays.
The VI Restaurant, conveniently located in the Victorian Inn at the corner of Ocean & Main in Ferndale, is a fine dining experience that adds to the magic of California's Redwood Coast, Humboldt County.
VI Restaurant Menu
Our menu fuses the innovation of California culinary cuisine with the classic staples of the Pacific Northwest. There is something for every culinary palette to enjoy at the VI Restaurant – from a traditional tavern sandwich to a comforting mac and cheese crock. Choose from traditional classics. Always at the top of the "Favorites" list are our mouth-watering steaks and fresh seafood.
Come be our guests, "Your Table Is Waiting".
LET'S HAVE A PARTY!
"YOUR TABLE IS WAITING"